Please check you have the latest version of myDRIVESCHOOL, version 1.7.6. Download Application 
Please review the installation guide. Download Guide
Please check you have setup the USB game controller to your steering wheel.  Currently we support Thrustmaster T80, TMX and Logitech 27, 29, 920, 923.
Please make sure you have installed the driver for your steering wheel.
Thrustmaster T80 Driver can be found here, Thrustmaster Drivers
Once the driver (2018_FFD_2.exe) is installed open the Thrustmaster folder and click Control Panel
This will take you to the Game Controllers (see below)
Make sure the Thrustmaster T80 is selected
Click Properties and make sure the T80 wheel and pedal are operating, they will be highlighted in this window.
Once you have confirmed this, launch myDRIVESCHOOL.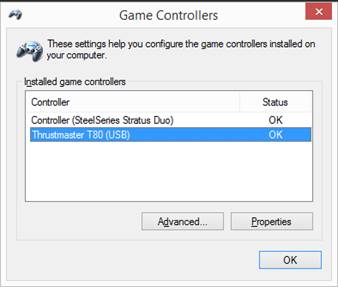 From your USB game controller please select properties and check all the buttons and pedals are working.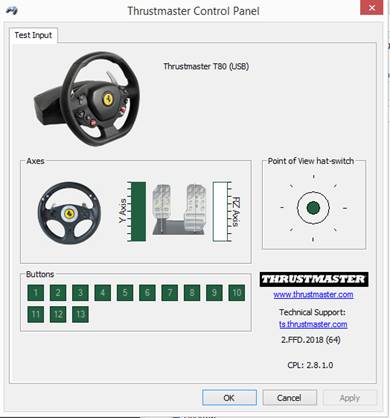 Technical Support
If you have been through the troubleshooting guide above and are still experiencing issues please send us a support ticket.